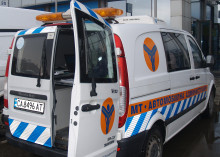 The Minister of Transport, Information Technology and Communications, Rossen Jeliazkov, ordered the inspectors of Road Transport Administration Executive Agency to take part in the Winter Specialized Action. The campaign takes place annually from November 1 to November 30 throughout the country.
The agency's teams will inspect public transport of passengers and freight, as well as taxi drivers. Inspectors will monitor compliance with the regulatory requirements, technical condition, tire condition, lighting systems as well as driving and rest times for drivers. If necessary, employees of the Road Transport Administration will participate in the implementation of a temporary organization for stopping traffic in certain road sections in the country.
Inspectors from the Road Transport Administration EA are in constant contact with the authorities of the Ministry of Interior and the Road Infrastructure Agency to coordinate the actions as well as to carry out joint control.