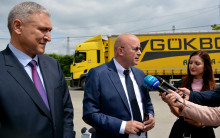 Nine vehicles were taken off the road for carrying out unauthorized passenger transport. This is what the results from the first three days of the inspections ordered by the Minister of Transport, Information Technology and Communications Rossen Jeliazkov show. The action aims at combating the gray sector in road transport and is taking place at four border crossing points. The inspections are also attended by control bodies of the Ministry of Interior and the National Revenue Agency, and inspections are planned to be carried out at other border checkpoints, as well as in the interior of the country.
"Illegal transportion is an extremely dangerous mode of transport. No one is responsible for the trip. No one has travel insurance. It is 100% unregulated and is in the gray sector. We thank the automobile branch for its assistance in combating illegal transport. Our main goal is to limit these transportations and to support the light sector, because 30% of the transportations are unauthorized. In parallel with the imposition of sanctions, we collect information about the overall activities of the persons performing these transportations. We pass this information to the competent authorities - the Prosecutor's Office, the National Revenue Agency for further inspections", commented the Deputy Minister of Transport, Information Technology and Communications Anguel Popov during today's inspection at Kalotina border checkpoint.
The Executive Director of the Road Transport Administration Executive Agency, Boyko Ranovski, announced that a total of 56 minibuses had been inspected so far, and that 9 minibuses had been found carrying out unregulated passenger transport. A coercive administrative measure had been imposed, as the vehicles had been suspended from movement for 6 months, and the drivers would be fined BGN 2,000. The greatest number of violations were established at Ruse border checkpoint – 8 and 1 is at Kulata border checkpoint.
"In one of the minibuses suspended from movement at the Ruse border checkpoint, the driver tried to give money to an employee of the Road Transport Administration Executive Agency. The case was reported to the Prosecutor's Office and pre-trial proceedings were instituted", said Boyko Ranovski. He clarified that the inspections were carried out jointly with the Ministry of Interior, as the establishment and proof of unregulated transportation required the collection of data from the driver and passengers, for which the inspectors of the Road Transport Administration Executive Agency did not have the authority. According to him, these transportations were extremely dangerous because they were carried out by unlicensed drivers who do not have a permit for this activity, without insurance for passengers and without tickets. Drivers drive overworked and accidents with similar vehicles often occur in Europe.
Boyko Ranovski said that these massive inspections would be carried out by the end of the current month, and the possibilities for permanent control were currently being discussed with the other competent authorities.