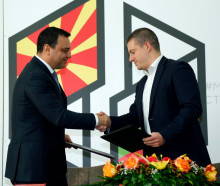 Roaming prices between Bulgaria and Macedonia will be reduced. This became possible after today's signing of a Memorandum of Understanding between the Ministry of Transport, Information Technology and Communications of the Republic of Bulgaria and the Ministry of Information Society and Administration of the Republic of Macedonia on reduction of international roaming tariffs for telecommunication services. The agreement was signed by Minister Ivaylo Moskovski and his Macedonian counterpart Damian Manchevski in the presence of the Prime Ministers of both countries Boyko Borisov and Zoran Zaev.
The document provides for the parties to encourage mobile operators to reach specific agreements with each other that will lead to a sustained reduction in international roaming tariffs.
Mobile call rates between Bulgaria and Macedonia are among the highest in Europe. They are between 2.99 BGN and 6.99 BGN per minute and about 25 BGN per megabyte. The signing of this intergovernmental agreement is an expression of the political will that will send a clear message that the integration of the Western Balkans is of the utmost importance for their inclusion into the EU, Minister Moskovski said. This will motivate telecom operators to enter into real-cost pricing agreements for roaming and Internet use, he added.
The removal of the roaming of the Western Balkan countries to the European Union is among the priorities of the Bulgarian government and the Bulgarian commissioner, Maria Gabriel. There is a debate at European level about removal of high prices for roaming, but Bulgaria is the first country to take a real step in this direction. These are just some of the measures to improve connectivity at all levels in the region, which will directly affect the contacts between citizens and businesses.
It is expected that the same agreement will be signed on 6 December with the Republic of Serbia.