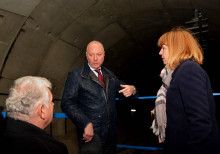 In the next programming period, with European funding from Operational Program "Transport and Transport Infrastructure", we envisage the construction of two subway extensions that will connect the central part of the city with the Levski and Slatina districts. The first project envisages the construction of 6 new metro stations from "Shipka" str. near the Military Academy "G. St. Rakovski " to Tsarigradsko Shose Blvd. at St. Anna University Hospital. The second extension is with 3 new metro stations and reaches the zh.k. Levski. This was announced by the Minister of Transport, Information Technology and Communications Rosen Jeliazkov during the inspection of the third subway line. He inspected the built tunnel and rail track between the metro station "Bul. Bulgaria "and" Krasno Selo "metro station together with Sofia Mayor Yordanka Fandakova and the Executive Director of" Metropoliten "EAD Prof. Stoyan Bratoev.
Minister Jeliazkov noted that over the current programming period of Operational Program "Transport and Transport Infrastructure" about EUR 2 billion is invested in transport infrastructure in the country, adding that the next period is even slightly increased financial resource, but it is expected to the end of 2019 to have full clarity on the issue. "We will follow a similar logic in allocating funds after 2020, with about 500 million euros planned for the subway," the minister said.
He also noted that, on the one hand, it was important to allow more citizens to move underground and on the other hand to make the necessary connections for the intermodality of transport. As an example, Minister Jeliazkov pointed out the connection between the subway station in Gorna Banya and the Sofia-Pernik railway line. "There must be interconnection and continuity in the use of different modes of transport," Jeliazkov concluded.