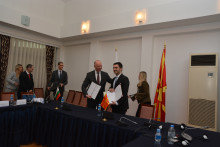 By 2025, we will build the rail connection with Northern Macedonia. This was announced by the Minister of Transport, Information Technology and Communications Rossen Jeliazkov at the first meeting of the Joint Intergovernmental Commission for Economic Cooperation between the two countries, which took place yesterday and today in Skopje. The Commission is chaired by Minister Rossen Jeliazkov and Minister of Economy of the Republic of Northern Macedonia Kreshnik Bekteshi.
"For the modernization of the railway line from Sofia to the border with northern Macedonia, 400 million euros will be needed, which is expected to be provided by the European funds," Minister Jeliazkov said. According to him, the investments from Northern Macedonia in the section from Kumanovo to the Bulgarian border will be similar.
"The roadmap shows that we will have built-in connectivity by 2025, and moving from Sofia to Skopje will take no more than an hour, with the capacity of the new infrastructure," Rossen Jeliazkov noted. He pointed out that the synchronization of projects is extremely important in order to build the cross-border tunnel "Deve Bair", which is divided equally between the two countries, and through it the crossing between states will be done directly. According to the Transport Minister, the concrete commitments on connectivity will allow the realization of the long-awaited Corridor 8 project.
Telecom operators and the regulator in Skopje have taken steps to encourage the reduction of roaming tariffs, Minister Zhelyazkov said after his meeting with Minister of Information Society and Administration Damyan Manchevski. "All three Bulgarian operators have significantly reduced roaming tariffs in voice, data and text messaging packages, which offer a price between BGN 2,99 and BGN 4 a day," the Bulgarian minister said.
Rossen Jeliazkov said that in April-May this year, calls to telecom operators will be accelerated. He added that the roadmap of the European Commission and the Western Balkans states that in 2022 roaming tariffs analogous to national tariffs will be achieved.
During the meeting of the intergovernmental commission, more concrete steps were taken to promote investment; the environment and water; energy and tourism. In the field of energy a wish was declared for construction of a second interconnector Petrich-Strumica. There will be talks with individual airline operators about inclusion in air travel packages between Bulgaria and northern Macedonia. It is expected that in the course of the intergovernmental meeting of the two countries, specific memoranda will be signed in these areas in April.