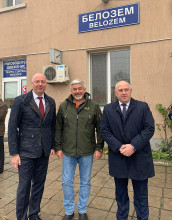 86% of the modernization of the railway section Skutare - Orizovo is completed. This was stated by the Minister of Transport, Information Technology and Communications Rossen Jeliazkov at the time of the project inspection. The 26-kilometer stretch between Skutare and Orizovo will be completed early next year, the minister added.
Rossen Jeliazkov commented that more than 70% of the construction activities in the direction from Sofia to Burgas were completed during the two programming periods of the Operational Program. "Most of the work on the railway track has been completed. It remains the toughest and most important task from a passenger perspective - to improve comfort and reduce travel time, "Jeliazkov said. According to him, in order to use rationally the capacity of the Sofia-Burgas railway line it is necessary to purchase new modular trains, which will reduce the travel time of less than 4 hours. According to the transport minister, the BDZ's customers had to be provided with cleaner and more comfortable conditions within the available rolling stock.
During the inspection Minister Rosen Zhelyazkov was accompanied by the Director General of the National Railway Infrastructure Company Krassimir Papukchiyski. They also visited the Belozem and Orizovo railway stations, which were also renovated within the framework of the project.
The project "Rehabilitation of Skutare-Orizovo railway section", which is part of the second phase of the project "Rehabilitation of railway infrastructure on the railway line Plovdiv - Bourgas" is financed by OP Transport and Transport Infrastructure 2014-2020. The section of Skutare - Orizovo has a length of 26 km and its rehabilitation is worth 70 million leva. The construction of the project envisages the design, the reinforcement of the dock, the installation of a new railway, the construction of a new contact network in the section of Skutare - Orizovo, work on safety systems and telecommunication systems, the rehabilitation of technical buildings and reception buildings at Manole and Belozem , as well as Opalchenets Railway Station.