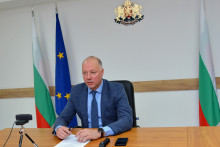 In the context of the unprecedented crisis we are in, we cannot afford initiatives that would lead to increased costs and administrative burdens for countries and airspace users. This was stated by the Minister of Transport, Information Technology and Communications Rossen Jeliazkov during today's informal videoconference meeting of the Transport, Telecommunications and Energy Council of the European Union – Transport format.
"The introduction of fundamental changes in the European air traffic management system, such as the transfer of powers from countries to the European Union Aviation Safety Agency and EUROCONTROL, the creation of a European economic regulator, a single charging unit and others, requires a comprehensive assessment of the impact", said Rossen Jeliazkov.
The Minister pointed out that the proposed modulation of fees and a single tax unit are unclear concepts and are not supported by evidence that they will achieve the desired effect. "The introduction of new technologies, such as hybrid aircraft engines and environmentally friendly fuels, has far greater potential to achieve the objectives of the European Green Deal. We should work on the possibilities for decarbonisation of the sector, but I am afraid that the planned complete reorganization of the system has no clear connection with the set goals for improving the environment", added Minister Jeliazkov.
"Under the Chicago Convention, only states have the right to decide on the sovereignty of their airspace. In this regard, I believe that compliance with the provisions of the Convention is a sufficient mechanism to guarantee the sovereignty of states. The states have the full responsibility for the safe management of flights in their airspace, therefore their participation in determining the framework and rules in the sector cannot be limited", said Minister Rossen Jeliazkov.
Regarding the Eurovignette Directive, Minister Rossen Jeliazkov stated that Bulgaria supports the compromise texts of the German Presidency of the Council of the EU. According to him, in the context of future negotiations on the legislative proposal, it is necessary to maintain the maximum level of flexibility for the Member States regarding the scope of the Eurovignette Directive, as well as taking into account national specifics.
"The exclusion of own expense transport from the scope of charging is an issue that needs to be discussed carefully, as we believe it is moving away from the objectives set out in the Directive and the Polluter Pays, User Pays principle. Road vehicles, performing transportation at their own expense, occupy a significant share when taking into account the harmful effects on the road infrastructure and should be charged", added Minister Rossen Jeliazkov.