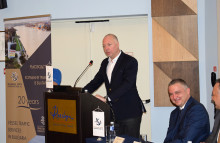 Bulgaria is among the four leading countries in Europe for the management of ship traffic. This was stated by the Minister of Transport, Information Technology and Communications Rossen Jeliazkov at the opening of the international conference "20 Years of Ship Traffic in Bulgaria" in Varna today.
"All this has been achieved in the sector over the last two decades, through good planning and programming in the implementation of state-of-the-art information systems," added Minister Rossen Jeliazkov. He identified the projects implemented by the State Port Infrastructure as a good example of efficient e-governance in the field of maritime and river transport, which traces the entire logistics chain and the links between the different institutions are fully integrated.
He commented that the country also has a high degree of digitalisation in air transport, and these positive approaches will be applied to other systems in the transport sector.
Rossen Jeliazkov noted that in the coming months, full automation of the processes in the Automobile Administration EA will be worked on in order to break the practice of having people between different information systems. "This facilitates not only business but also processes in the administration by eliminating corruption," he said.
In Varna Minister Jeliazkov inspected the work of the Directorate General Emergency and Rescue Activity at the Maritime Administration Executive Agency. During his visit, he approved a project to create a joint aviation and maritime search and rescue center, to be built with funds from the Ministry of Transport, Information Technology and Communications. In this way, Bulgaria will comply with the requirements of European Union legislation in the event of incidents and accidents involving aircraft and maritime assets in our responsible search and rescue area in the Black Sea. The project envisages the management and coordination of all actions to be carried out jointly by employees of the Maritime Administration IA and the Directorate General for Civil Aviation Administration.