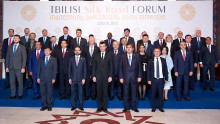 Bulgaria is making the necessary efforts for the construction of a modern railway and road infrastructure along the East-West Axis. This was stated by Minister of Transport, Information Technology and Communications Rossen Jeliazkov during the Silk Road Forum, which takes place from 21 to 23 October 2019 in Tbilisi, Georgia. In his words, this creates the necessary conditions for the rapid transportation of people and goods, given the increasing transport traffic between Asia and Europe.
"The expansion of the largest Bulgarian seaports in Varna and Burgas and the improvement of the Black Sea ferry connections are also among the priorities of our national transport policy," said Rossen Jeliazkov. He said that the stakeholder cooperation need to be further enhanced through the promotion of pilot projects, which would support the corridors development, rail transport, as well as low carbon and smart mobility.
"Bulgaria keeps up very good relations with the countries participating in the Silk Road Project (China, Azerbaijan, Iran, Turkey, Kazakhstan, Georgia, Uzbekistan, Turkmenistan and Tajikistan). We are also very interested in other regional transport initiatives, such as the Euro-Asian transport links project; EU-China Connectivity Platform, the 17 + 1 Initiative for China and TRACECA cooperation" Minister Rossen Jeliazkov added.
"We are confident that with the joint efforts of all partners we will establish a stable trade and communication network between Europe and Asia, which will play a key role in supporting trade and economic growth," said Rossen Jeliazkov.