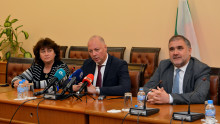 We have no ambition to turn Bulgarian Posts EAD into a monopoly in the market for distribution and sale of print media. This was announced by Minister of Transport, Information Technology and Communications Rossen Jeliazkov during a press briefing. 
"The scope of activities of Bulgarian Post also includes the distribution of print publications. This enables the Bulgarian Post to become a trading company on the liberal market in the activity of distribution of printed matter from publishers to retailers, which will lead to diversification of the market without restricting competition, "said Rossen Jeliazkov. In his words, the realistic deadline for launching the distribution of print editions is the second half of January 2020, by which time the necessary estimates will be made and negotiations with the publishers will be made.
 "Every publisher should be able to judge which distributor best fits their views and economic interests. It is important to know that the activities of the Bulgarian Post, in relation to the provision of services and activities outside the scope of the universal postal service, are carried out on a market principle, "said Rossen Jeliazkov. 
The Minister noted that Bulgarian Post has the necessary network, both for distribution and retail throughout the country. The logistics chain covers about 3,500 deliveries daily or 4,000 packages, 24 hours a day, 7 days a week. The scope of the process includes 18 national and 115 regional routes, of which 110 are nightly. On a monthly basis, the total transport covers 800,000 km, the printed editions being about 900 volumes, and their volume is 2 400 cubic meters. For the realization of this service, analyzes of the organization and the necessary transport are made. The Minister added that other services are being implemented to support the development of Bulgarian Post.