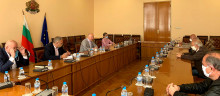 On May 4, 2020, the theory parts of the driving tests for driving licence candidates are resumed, and on May 11, 2020, the practical parts of the driving tests. This was announced after today's meeting of the Minister of Transport, Information Technology and Communications, Rossen Jeliazkov and representatives of the teachers in auto-motor training. The talks were also attended by Deputy Minister Angel Popov and the Executive Director of the Road Transport Administration EA Boyko Ranovski. The training of driving licence candidates in the training centers is expected to resume on May 18, 2020, if the situation permits.
"In order to successfully restart the training process and the tests of driving licence candidates, all the prerequisites for guaranteeing the safety of both trainees and examiners and trainers are being created. The working time for conducting driving license tests at the Road Transport Administration EA will be extended to 12 hours. The capacity of the test rooms will be reduced to comply with physical distance measures and the premises will be disinfected after each test. The same disinfection measures will be taken for vehicles that are part of driving courses. The use of masks and gloves also remains mandatory", said Minister Rossen Jeliazkov.
He stated that the aim is to build an effective organization that will allow this system to function properly. "Geting out of the difficult situation requires the joint efforts of the administration and the industry, so we remain in a constant dialogue, because at this moment we will not achieve anything constructive with conflict and opposition", said firmly Rossen Jeliazkov.