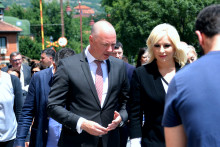 By the end of 2021 the Bulgarian road section Slivnitsa - Dragoman - Serbian border will be successfully completed. This was announced by the Minister of Transport, Information Technology and Communications Rossen Jeliazkov today in the framework of his visit to Serbia.
"Very soon we will proudly have fully-built Corridor 10, from the Black Sea to the United Kingdom, without traffic lights and without any obstacles. Only the issue of border crossing will remain, but I hope that as soon as possible with the Republic of Serbia's aspirations to become a full-fledged member of the EU and our drive to enter the Schengen area will reduce administrative barriers, improve the connectivity and lead to the better development and prosperity of our peoples," said Minister Rossen Jeliazkov. According to him, there are no unresolved issues between the two countries, both in transport operations and in the implementation of infrastructure projects.
"We informed our Serbian counterparts about the process of construction of the railway line from Sofia to the Serbian border, the route being divided into two sections - from Voluyak to Dragoman and from Dragoman to the border. The first stretch shall be completed in this programming period. From Dragoman to Serbian border shall be planned for the next programming period from 2021 with funds under the Operational Program, the Connecting Europe Facility and the Cohesion Fund for Regional Development. According to our estimates from Sofia to the Serbian border, with the complex infrastructure, which is from Dragoman to the border, we have to be ready by 2025. We hope that we will move alongside our colleagues from Serbia so that the trains from Sofia to Europe can travel at the required design speed, which in our section will be 160 km / h," said Minister Rossen Jeliazkov.
Deputy Prime Minister and Minister of Construction, Transport and Infrastructure of Serbia Zorana Mihajlovic said that the implementation of these projects will reduce congestion at the border. "We are glad that Bulgaria is building a highway and that the trip for tourists will be much easier. We also talked about rail links, hoping that the section in Serbia would be ready by 2024," said Zorana Mihajlovic.
"The connectivity in every area the two ministers spoke about is something that is part of the Sofia Declaration, of the efforts Bulgaria is making for the connectivity in the region and for the future path of the Western Balkan countries to the EU. Today's talk was entirely according to the agenda of the relations between Bulgaria and Serbia and the relationship between the EU and Serbia. I am endlessly satisfied with the level of talks and the extremely open spirit of trust between the two Ministers," said Ambassador Extraordinary and Plenipotentiary of the Republic of Bulgaria to the Republic of Serbia Radko Vlaykov.