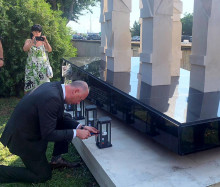 There are no words that can compensate for the grief and pain, there are no years that can overcome the feeling of oppression in the souls because of this injustice. With these words, the Minister of Transport, Information Technology and Communications Rossen Jeliazkov adressed the relatives of the victims during a commemorative ceremony on the occasion of the seventh year of the Sarafovo Airport bombing in Burgas.
"Today, we have gathered to pay our respects to the memory of those who died at this place and to their relatives for the grief caused by this injustice. This obliges us as politicians and statesmen to make the necessary efforts to bring international terrorism, extremism, hatred, enmity leading to such inhuman acts to be stopped by all possible means of the states and our societies, "added Minister Rossen Jeliazkov.
"Terror has no religion and makes no sense; it has only one purpose - to create fear, to stray us from our goals, in our belief in the development and establishment of fair societies and states where the free people who profess democratic values and freedom live, said Rossen Jeliazkov.
The Minister also stressed that, together with the international community, the necessary efforts have to be be made to find ways and means of stopping terrorism, in its many different ugly manifestations.