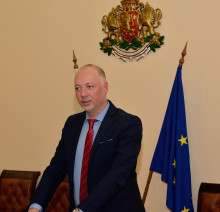 I have appealed to seven more countries to support the postponement of the Mobility Package I for the next European Parliament. The Minister of Transport, Information Technology and Communications, Rossen Jeliazkov announced this, during today's briefing. He emphasized    that following yesterday's vote on the agenda of the upcoming European Parliament meeting it is clear that a number of countries, which are not currently in the like-minded group, show hesitation. "These countries are Portugal, Spain, Ireland, Greece, Slovenia, Slovakia and Croatia. I have sent letters to my colleagues from these countries, urging their EP representatives to vote on the Mobility Package I to be postponed for next composition of the Parliament. This way there will be enough time compromises that satisfy the peripheral countries that are not in contradiction with the proclaimed principles of the Package and the European Union, to be reached" said Rossen Jeliazkov.
The Minister was definite that such a legal precedent and absurd situation did not exist in the history of the European Parliament - voting texts previously rejected by Parliament's Committee on Transport and Tourism, as there are more than 1 600 additional texts proposed also to be voted separately, he added.
Asked how he will comment on the words of the President of the European Parliament, Antonio Tajani, that the texts of the Package are not acceptable, after two-thirds of them are rejected, Minister Jeliazkov said that the Bulgarian side relies on the position of President Antonio Tajani. "You know the significance that attaches Antonio Tajani to the role of Bulgarian Prime Minister Boyko Borissov, with whom he hold several meetings. So, he respects our national position. This gives me an opportunity to note that the rest of the group of the like-minded states relay heavily on Bulgaria, which also demonstrated during the Bulgarian Presidency of the EU Council that is a significant factor not only during the formulation of the common thesis but also as a natural leader on the Balkans", underlined the Minister as well.
"Everyone is aware that this is a Package, dividing Europe. We received in the morning such a statement by our Swedish colleagues too. They are also divided there into left wing, who support it, and right wing who consider the fragmentation of the market as an extreme impediment to a righteous European law", stated Rossen Jelizakov. He was definite that tomorrow in Bucharest during the informal Meeting of the EU Transport Ministers Council, as well as on Friday, at the Intergovernmental meeting between Bulgaria and Romania, the Bulgarian side would require not to be allowed the institutional negotiations regarding Mobility package I between the European Commission, the EU Council and the European Parliament, the so called trilogue. According to him, if a trilogue is not carried out, the procedure will be postponed for the next EU Parliament.