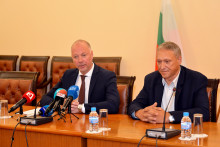 I will not allow any increase in the administrative burden and speculation about lobbying in the regulation of service activity and vehicle registration. This was announced to the media by the Minister of Transport, Information Technology and Communications, Rossen Jeliazkov on the occasion of the texts proposed for public discussion regulating the activity of car services and the initial registration of motor vehicles.
"The government and I as a minister have not committed ourselves to adopting the final texts of the proposal for changes to the registration of road vehicles and service activities. It is appropriate that when a bill is published it should wait for a public consultation, hear the views of all interested parties, consider the various proposals, and after submitting it to the Council of Ministers, comment in detail. Any speculation that is made about the texts before the government engages them is extremely arbitrary, "said Minister Rossen Jeliazkov.
He stressed that 25 organizations from the non-governmental sector have signed a Memorandum, stating their desire to unite efforts to create conditions for sustainable development of a safe and environmentally friendly car park in Bulgaria. "We want to have effective control over the registration, identification and technical condition of vehicles, as well as to make it easier for citizens to sell and buy motor vehicles," said Rossen Jeliazkov.
The Minister undertakes to familiarize the Transport, Information Technology and Communications Committee with the results of the public consultations after the end of the NA vacation. "I fully accept in the spirit of public consultation the opinion expressed by the BSP today regarding the bill and will be taken into consideration carefully," Jeliazkov added.