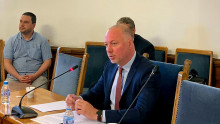 If the Mobility Package I is adopted in its current form, the Bulgarian side declares its readiness to file a lawsuit in Luxembourg before the Court of Justice of the European Union. This is what the Minister of Transport, Information Technology and Communications Rossen Jeliazkov commented today in front of the media representatives at the National Assembly. According to him, Bulgaria is looking for like-minded EU Member States for litigation in the European Court.
"The lawsuit can be filed by Bulgaria, and other countries from the group of the like-minded Member States can join it, so that it can be collective as well. In any case, both the subject and the grounds of the claim will be submitted for approval by the Council of Ministers", said Minister Rossen Jeliazkov. He pointed out that on July 8, the Mobility Package is scheduled to be voted in the plenary in the European Parliament. If adopted, it is expected to be published in the Official Journal of the EU in August.
"Regarding the return of the vehicle, the texts provide for an 18-month transition period, which ends at the beginning of 2023. The special rules for the secondment of drivers – Lex specialis, also provide for a deferral period until 2023. During this period, the Commission will carry out the necessary analysis and impact assessment of whether the return of the vehicle is a measure that violates the European principle of decarbonisation", said Rossen Jeliazkov.
The Minister also commented on the requests of the bus carriers for specific legal changes related to bus services. He announced that together with Information Services, electronic services are being developed that will facilitate business, reduce the services time and the issuance of licenses time. This will also reduce the risk of corruption. Further talks with the bus branch are to hold, during which possible changes in the sector will be specified, the Minister added.