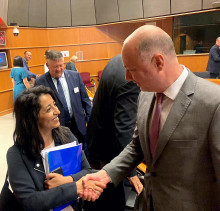 An impact assessment is a prerequisite for the Committee on Transport and Tourism of the European Parliament to make a coherent and fair decision on the three Mobility Package I dossiers, as this opportunity was heretofore missed. The Minister of Transport, Information Technology and Communications, Rossen Jeliazkov, appealed with that statement to the Chair of the Committee on Transport and Tourism of the European Parliament, Karima Delli. The Minister said that the moment of serenity after the European elections is the right time to build a solid basis for future negotiation process and trialogues on the Package.
The Minister pointed out some of the texts that the like-minded Member States consider controversial. The first critical point is the requirement for a regular return of the vehicle, which means that the driver will be obliged, against his/her will, to spend extra weeks on the road. Rossen Jeliazkov noted that this will increase the empty runs, thus increasing the levels of harmful emissions, which is contrary to all European policies in the field of environmental and climate protection. He stated unambiguously that a returning of the vehicle does not strengthen drivers' social rights.
According to the Minister, the second unacceptable restrictive measure for which Europe is not prepared is a ban on spending the weekly rest in the cabin of the vehicle. The transport Minister said: "There is a lack of around 400 000 safe and secure parking places in the EU – this is the conclusion of a study published by the European Commission".
As a third major imperfection in the suggested policies, Rossen Jeliazkov pointed out the lack of impact assessment when introducing a new model for the international transport. The Minister highlighted: "This is discrimination against the transport model of these Member States' economies that do not imply priority of bilateral operations".
He made an appeal to the members of the newly elected European Parliament and the Committee on Transport and Tourism to reconsider the current position on the Mobility Package I by adopting a realistic approach as for facilitating the interinstitutional negotiations.
During the meeting, the Committee Chairman Karima Delli reaffirmed her intention to propose a voting date at the end of September to give a mandate to conduct trialogues.
Minister Rossen Jeliazkov introduced the results of the discussions being made to the Bulgarian representatives in the European Parliament. The meeting is part of the coordinated efforts in respect of the forthcoming EP parliamentary season and of maintaining a unified position of Bulgaria on the dossiers in the Committee on Transport.