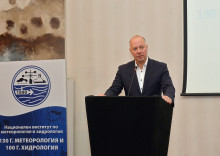 The information provided by the National Institute for Meteorology and Hydrology (NIMH) determine the behavior of institutions, people, individual plans and projects, as stated by the Minister of Transport, Information Technology and Communications Rossen Jeliazkov during the solemn celebration in the National institute on the 130th anniversary of meteorology and the 100th anniversary of hydrology in Bulgaria. 
"Since 1870 in Bulgaria are being carried out periodical surveillances on the Danube River, which have particular impact on the navigation", noted the Minister. He added that NIMH works very actively with both Executive Agency "Maintenance and Exploration of the Danube River" and SE "Port Infrastructure".
Rossen Jeliazkov emphasized the notable role and contribution of NIMH to the preparation of analyzes.  He gave as an example the study on thunder activities, based on the choice of the radars and the construction on Cherni vryh peak that determine the air flow through the territory of the country, which is almost two thirds of the traffic of our continent.
"Definitions of good weather are very relative in terms of individual perception and public activity", said the Minister. He added that the observed climate changes, the role of data collecting and processing, of analysis and forecasts, are entrusted to a reliable institution such as NIMH. "I thank to all employees of the National Institute who, with their day-and-night work, give us the opportunity to take the right and timely managerial decisions.", said Jeliazkov in conclusion.