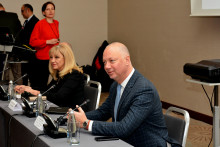 The introduction of the toll system is not an end in itself, but a necessity. This was stated by the Minister of Transport, Information Technology and Communications Rossen Jeliazkov within a discussion on the introduction of the toll system in Bulgaria, organized by the World Bank and the Road Infrastructure Agency.
"The toll system was introduced relatively late in our country, but now is the time when there is a debate in the European Union to define policies for connectivity, decarbonisation and digitalisation. With regard to the topic of connectivity so far, huge resources have been invested in the construction of the road infrastructure in Bulgaria. From now on, the government, taxpayers and infrastructure users are committed to maintaining this infrastructure and to distributing the burden of its use, "said Rossen Jeliazkov.
The Minister announced that a few days ago at the Council of the EU, the Transport format, a general approach was adopted for amending Directive 1999/62/EC, which regulates the Eurovignette system. The changes clearly distinguish Euro 5 and 6 vehicles from those of a lower category, with the principle that no longer only the infrastructure destroyer but also the polluter should pay. In his words, the Bulgarian side has made a significant contribution to the adoption of this mechanism.
"During the discussions, our insistence was to exclude cars, mini-vans and commercial vehicles from the scope of the Eurovignette. This is an approach that we also advocate at the national level, and the weights must be properly distributed, "said Minister Jeliazkov. He added that in the coming years, revenues from the toll system will be a major revenue stream for the construction and maintenance of road infrastructure, as well as for the implementation of policies such as connectivity and decarbonisation.