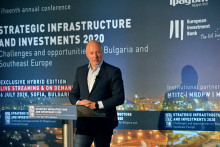 It is important to find space for the necessary synergy between institutions, businesses and funding bodies. This was stated by the Minister of Transport, Information Technology and Communications Rossen Jeliazkov at the opening of the Fifteenth edition of the "Strategic Infrastructure and Investment 2020" annual conference.
"In the hottest phase of the Covid-19 pandemic Europe managed to mobilize and take effective and timely decisions to ensure the supply of goods and services through the green corridors", said Minister Jeliazkov.
The Minister expressed his conviction that in situations where national decisions were extremely harsh, sometimes panic, Europe was able to institutionally maintain its authority even in conditions of national isolation. According to him, it is important to create opportunities for added value, when strategic, transport, information and infrastructure projects are concerned. It is essential that we learn from the lessons and keep the good practices, not go back to the bad ones, he added.
"Good examples should serve not only as opportunities for reaction, for action under pressure, but also for the development of trans-European connectivity, which is the focus of efforts and investments in recent years," said the Minister unequivocally.