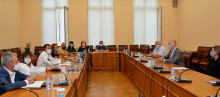 Long-term policies in the field of rail transport are needed. This was stated by the Minister of Transport, Information Technology and Communications Rossen Jeliazkov during a meeting with the representatives of the newly established Association of Railway Transport Enterprises.
"Rail freight transport operations were not interrupted during the pandemic and proved their important role in the logistics chain not only in Bulgaria but throughout Europe. The sector is also of strategic importance in the context of the Green Deal, as rail transport has proved to be environmentally friendly and energy efficient. Unique perspectives open up for the future, so opportunities should be sought for their development", said Rossen Jeliazkov. To this end, the development of intermodal terminals on the territory of the country was also discussed.
Minister Jeliazkov pointed out that the railways provide attractive opportunities for freight transportation and he was adamant that they will ensure equal treatment of hauliers in the sector.
During the conversation the representatives of the industry presented to the Minister their proposals for the development of freight transport along the railway network and expressed readiness to assist in the development of specific measures and policies.