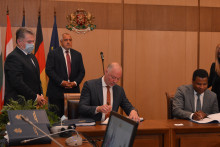 The signing of Sofia Airport Concession Agreement is an indicator of the sustainable development of Bulgaria, Minister of Transport, Information Technology and Communications Rossen Jeliazkov said. The concession agreement was signed today at Sofia Airport in the presence of Prime Minister Boyko Borissov, the Ambassadors of Austria Andrea Wicke and France Florence Rоbinе, as well as the chargé d'affaires of the German Embassy York Schuegraf.
"Today's signing of the concession of Sofia Airport is indicative of transparency and of the fact that our European partners are welcome in Bulgaria. The procedure was won by SOF Connect Consortium, a Munich Airport operator, in which German, French and Austrian companies participate. With such European partners, I am convinced that Bulgaria will move forward", Prime Minister Boyko Borissov said.
"Attracting first class foreign investors is an essential element of Borissov's government policy", Minister Jeliazkov said. "The development of public-private partnership has found its satisfactory realization after many years of political argumentation, and why not of political confrontation on this extremely important issue", he added.
"We have proved that Bulgaria is an attractive country that can attract first class investors by signing the Sofia Airport Concession Agreement. It is important for us that Sofia Airport is not just an asset in which to invest, but to be Bulgaria's door to Europe and the world", Minister Jeliazkov said.
"The concession procedure is the beginning, not the end of the long way ahead. We believe that Sofia Airport will really find the best that is possible at the moment in the face of SOF Connect. The skills of the managers will convince the Bulgarian society that the public-private partnership is the good way to implement large infrastructure projects", Minister Jeliazkov said. He expressed confidence that travelers and all those who use the services of Sofia Airport would notice the big difference and would be satisfied regardless of the challenges ahead.
"Sofia Airport will be more innovative and with a greater chance for development. We believe that we will support with the investment the development of the better economy in Bulgaria", said the representative of SOF Connect Consortium Thierry Déau.
***
The initial concession fee amounts to BGN 550 million. The concessionaire will pay an annual concession fee in the amount of the larger of the two amounts: EUR 24,542,010.30 and the amount determined by applying 32% to the total amount of the total revenues from the concession for the respective year of it. According to the contract implementation program, investments of at least 608m euros will be made. Also, within the 10th year from the beginning of the concession, a new Terminal 3 will be built at Sofia Airport, and the construction of a new Cargo terminal is planned.