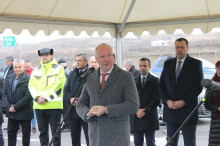 The opening of yet another Lot of Struma motorway is the result of the government's sustainable policy on ensuring transport connectivity between regions, stated the Minister of Transport, Information Technology and communications, Rossen Jeliazkov, at today's deployment of the 24-kilometer section of the motorway between the towns of Sandanski and Kresna. The event was attended, among other, by the Minister of Regional Development and Public Works, Petiya Avramova, the Deputy Minister of Economy, Alexander Manolev, the Chair of RIA's Management Board, Svetoslav Glossov, MPs, and mayors.
Minister Jeliazkov highlighted that the efforts for improving welfare of local communities are focused both on the South and the North of the country, the ensured financing for Hemus motorway a week ago only proving that. All that would not have been possible without the consistent policy of Prime Minister Boyko Borissov and his farsightedness that connectivity is an investment in the future of each and every region, added Jeliazkov.
By now, some 93 km of the motorway to Greece have been constructed, the deadline for the remaining 57 km being 2023. "We are positive that we will succeed in implementing the agenda in time and in 5 years we will travel from Sofia to Kulata cross-border check point in 1,5 hours", commented Rossen Jeliazkov. 
***
The construction of the motorway section was completed before the deadline and was financed under OP Transport and Transport Infrastructure 2014-2020. The section is part of the larger project Struma Motorway - Lot 3.1, Lot 3.3 and Zheleznitsa tunnel. The total amount of the funds provided for the three lots is about 750 million leva, some 280 million of which were allocated to the section completed yesterday. This is the first section of the motorway where intelligent transport systems are being deployed. These include traffic counting and managing stations, CCTV, vehicle weigh measuring and weather monitoring. Similar systems are to be deployed along Trakia motorway and financed under OPTTI 2014-2020.