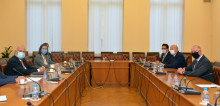 The new lane for transport of refrigerated goods at Kapitan Andreevo-Kapıkule border checkpoint should be launched as soon as possible, and the fees for Turkish carriers entering Bulgaria or transiting through the country should be abolished. These two issues were part of the topics discussed by the Minister of Transport, Information Technology and Communications Rossen Jeliazkov and the Deputy Minister of Trade of Turkey Riza Turagay, in the framework of a meeting held today at MTITC.
"Bulgaria and Turkey are not only neighboring countries, but also friendly countries. And we show this every day, especially in the field of transport, in which Turkey is one of our important partners. So far we have a stable relationship. It is especially significant that in these times of difficulties caused by the pandemic, the movement of goods, supplies and people is carried out unhindered and evenly", Minister Rossen Jeliazkov said.
"The business of transporting goods is extremely competitive. In the interest of economic and bilateral trade, and the exchange of goods, it is necessary to follow a reciprocal approach. At this critical time for the world's economies, the provision, if necessary, of additional permits for carriers is also of great importance for increasing trade. Together with our Turkish colleagues, we are working hard to reduce the administrative burden so as to speed up the movement of goods and make business as easy as possible. We appreciate the fact that we have quick contact and mutual trust with the institutions of the Turkish side, in resolving various difficulties and everyday issues", Rossen Jeliazkov added.
"As neighboring countries, it is in our interest to increase trade and economic relations between our countries. During the pandemic situation we are going through, we tried to show a very special, very individual attitude towards Bulgaria. In a period in which we are applying a 14-day quarantine to Turkish citizens, we have decided not to quarantine Bulgarian drivers in Turkey", said Turkish Deputy Minister of Trade Riza Turagay. He pointed out that at the moment the capacity of the Kapitan Andreevo-Kapıkule border checkpoint is about 1,100 trucks a day. "We are convinced that with the opening of the new lane for transport of refrigerated goods we will be able to increase the throughput to 1400 and 1500 trucks per day. If we manage to implement this step, we will give added value not only for us, but also for the Bulgarian transport industry, Bulgarian carriers and the Bulgarian state as a whole", the Deputy Minister of Trade of Turkey added.
Both of them expressed confidence that Bulgaria and Turkey are moving in the right direction of constructive and good-neighborly cooperation in the field of transport, as well as in all areas of mutual interest.