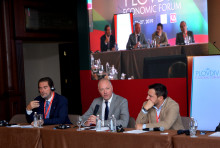 We are consistent in implementing the transport and digital connectivity policies with our neighboring countries. This was stated by the Minister of Transport, Information Technology and Communications, Rossen Jeliazkov in Plovdiv during an Economic Forum. In his words, the most important condition for achieving better connectivity is the efficient maintenance, modernization and infrastructure development.
"Bulgaria is part of two European corridors, part of the European transport network. These are the two corridors Rhine-Danube and Orient/Eastern Mediterranean. These are the road and rail corridors connecting the East with Europe as the Western Balkans with the East, "he added.      
Minister Rossen Jeliazkov pointed out that successful steps have been taken to ensure the connectivity of the Western Balkan countries without unrealistic expectations.
"The modernization of the railway and road connection from the Serbian border to Sofia is of great importance for the realization of the connectivity in the road transport. The project will allow us to have a modern railway infrastructure from the Black Sea to Europe, which will allow high-speed transportation of goods and cargo" the minister said. He underlined that the other priority line we are developing is the modernization of the railway link with Northern Macedonia. Rossen Jeliazkov added that in order to connect the Western Balkans with the Eastern Partnership countries and Turkey, one of the most complex rail routes from Sofia to September is also being developed. The Transport Minister reminded that Bulgaria works actively on the realization of joint projects with Romania and Greece. "I and my Romanian colleague launched the process of construction of a third bridge over the Danube River and our idea is to construct other bridges in the future. This will significantly improve connectivity between the two countries and will reduce the queues of heavy vehicles at the borders", added Rossen Jeliazkov.
In response to a question of a participant in the forum, Minister Jeliazkov said that by the end of July could be selected a contractor for the concession of Sofia Airport. ""It should be borne in mind that we select a partner in a public-private partnership, so it is very important to assess the business model and its feasibility, sustainability and indisputability for a future period of time" the Minister commented.