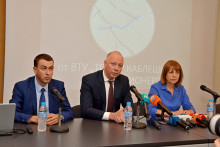 We are working on the initiative of the Sofia Municipality for the construction of a bicycle and pedestrian alley from VTU Todor Kableshkov to Pioner Station. This was stated by the Minister of Transport, Information Technology and Communications, Rossen Jeliazkov, during the presentation of the idea of ​​building a Green Ring in the capital by the mayor Yordanka Fandakova and the chief architect of the city Zdravko Zdravkov.
"A plan is currently being drafted and will be presented to the public for consideration. The procedure stipulates that after it is adopted and enters into force, the Municipal Council will express its will for the free acquisition of the properties of NC Railway Infrastructure, which fall within the project area. When this happens, the Council of Ministers must come up with a decision to grant the property to the Sofia Municipality free of charge, "explained Rossen Jeliazkov. According to him, the land to be transferred is over 60 acres.
"The main functionality of the area will be the construction of bicycle lanes that will improve urban connectivity. 60 percent of the land is intended for landscaping, which will create a park environment, with the potential to deploy a comprehensive urban mobility concept. This is a proactive policy that will very soon lead to real results for the development of our capital as a green city, "added Minister Jeliazkov.
"The project for the construction of a 3-kilometer linear park with a bike lane that will run along the old railway line in Sofia is the first section of the Green Ring we want to build. "This is a key, landmark and difficult project that requires overall coordination with the Ministry of Transport, Information Technology and Communications, which is the principal of the NC Railway Infrastructure, the property owner," said Mayor Yordanka Fandakova. She said the goal is for all neighborhoods that the Green Ring passes through to have an ecological connection to the city's parks.