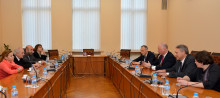 We rely on the united industry to partner with the state to create regulatory and public prerequisites for quality training of driver candidates. This was stated by the Minister of Transport, Information Technology and Communications Rossen Jeliazkov during a meeting with representatives of the teachers in the field of auto-moto training. The Minister was adamant that he would continue the work of establishing a good exam organization, which would not allow subjective judgment and corruption opportunities.
"We will be guided solely by the understanding that good preparation, controlled by an equitable and fair examination, is part of the measures to implement the policy for effective road safety and to meet the expectations of the society for this," said Rossen Jeliazkov.
"Our goal can only be realized in partnership with everyone, regardless of their differences of approach, because we are convinced that we are led by a common cause," the Minister added.
The Minister of Education and Science Krasimir Valchev, the Chairman of the State Agency for Road Traffic Safety Malina Krumova and the Executive Director of the Road Transport Administration Executive Agency Boyko Ranovski also took part in today's meeting. During the talks, an agreement was reached on the formation of a working group, with an expanded composition of experts and industry representatives. The Ministry of Transport, Information Technology and Communications will actively participate in the working group to develop a comprehensive concept and find the best solutions in the training and examinations of driver candidates.