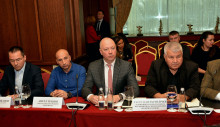 We should use all means of European bureaucracy to defend national interests during the voting on Mobility Package I in the European Parliament, said the Minister of Transport, Information Technology and Communications following today's meeting at which were discussed the incoming actions before the review in the Transport Committee in EP on January 10, 2019.
"We will seek interaction during the voting with countries which sympathize with us, but have expressed a position that differs from ours. I believe that all Bulgarian members of EP will make the necessary efforts, in case we do not achieve favorable conditions for the Bulgarian transport sector, to block the legislative proposals", said also Minister Jeliazkov. He underlined that the majority in the EP is very vague at the moment and should be very well informed on the consequences that will follow after the adoption of the legislative proposal. According to him, the texts currently divide the EU still emotionally, but their adoption in this form will lead to social division of Europe as well.
Minister Jeliazkov said also that people in Europe should be aware that Mobility Package I violates the normal functioning of the Single market and basic competition principles, thus restricting the Bulgarian transport sector. It is hypocritically stated that these rules defend the social rights of drivers, violating simultaneously their basic right to move free, obliging them to return home within every four weeks.
The Minister announced that he and his colleagues from Lithuania, Poland and Hungary are due to meet the rapporteurs of the legislative proposals, the Chair of the Committee on Transport in EP Karima Delli and the EU Commissioner Violeta Bulc. During the talks will be emphasized again the arguments and the position of the countries against the amendments. The Minister was determined to support and attend the forth-coming protest of Bulgarian hauliers in Brussels.