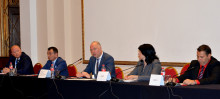 We are working on providing BGN 30 million for the bus sector out of the Operational Program on Transport and Transport Infrastructure. This was announced by the Minister of Transport, Information Technology and Communications Rossen Jeliazkov after today's round table organized by the bus branch. According to him, at the end of last week, together with Deputy Prime Minister Tomislav Donchev and in dialogue with the European Commission, a measure aimed at bus carriers was specified. It envisages the targeted transfer of BGN 30 million from Operational Program on Transport and Transport Infrastructure to the Innovation and Competitiveness Operational Program. "This new measure is grant support and will be available to bus operators. In order to finalize the measure, the European Commission has asked the Bulgarian side to motivate the importance of this sector, as well as the need for targeted support, for which we will rely on assistance by the branch", said Minister Rossen Jeliazkov.
The Minister stated that the Bulgarian Export Insurance Agency would take over a large part of the collateral for the remaining 20% ​​of the loans granted by the Bulgarian Development Bank. "This practically means that liquidity loans will be almost 100% secured, for which I thank the Bulgarian Export Insurance Agency and the Bulgarian Development Bank", said Rossen Jeliazkov. He noted that the subsidies and compensations paid by the state to bus carriers would not be reduced and would be paid in a timely manner.
"Regarding the legislative measures, a meeting of the Transport Commitee in the National Assembly is forthcoming. I believe that the MPs will be able to meet the expectations of the branch with dignity", the Minister added. He announced that the deadline for proving financial stability by companies had been extended by three months.
"We also pay very serious attention to limiting the harmful effects of the gray sector in bus transport. As of today, complex inspections begin between the Road Transport Administration Executive Agency, the Ministry of Interior and the National Revenue Agency in the areas of the border checkpoints for control of the transportation of tourists and persons by unlicensed carriers. Such inspections will also be carried out at Sofia Airport and elsewhere in the interior of the country. The process of adopting amendments to the Road Transport Act is underway, where this topic is covered, and work is underway to criminalize this activity", said Minister Rossen Jeliazkov.