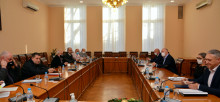 Within a week, there will be a final decision on the main changes laid down in the texts of Ordinance №34 on taxi transport of passengers. This became clear at today's meeting of the Minister of Transport, Information Technology and Communications Rossen Jeliazkov and representatives of the taxi industry.
During the talks, the proposals received during the public discussion of the draft amendment to the legal act were discussed. The participants in the meeting expressed different opinions on the role of legal regulation of the components of the tariff for taxi transport, incl. in the context of the current epidemic situation.
Minister Rossen Jeliazkov pointed out that everyone in the sector should unite around a common solution that would best express the interests of the industry, protecting the interests of consumers. The Minister called on the participants in the meeting to look for optimal and satisfactory solutions.
"All topics raised by the participants in the meeting will be reflected in detail in the draft amendment to the ordinance, which will be sent to the branch organizations before its promulgation," said Minister Rossen Jeliazkov.