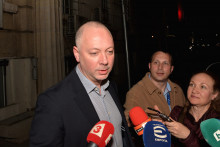 I am mad at putting the Mobility Package I on the agenda of the European Parliament. This was announced by the Minister of Transport, Information Technology and Communications Rossen Jeliazkov after today's vote on the agenda of the upcoming plenary session of the European Parliament on Wednesday. In his words, this Mobility Package, in its form, does not and can not have a future. It is against the principles of the European Union, European law, the Lisbon Treaty and is completely discriminatory towards the countries on the periphery of the Union, said Rossen Jeliazkov.
The Bulgarian Minister expressed his disappointment that only two voices failed to drop the Package on the agenda. "The votes were 156 to 154. We were short of only two votes to postpone the controversial texts for the next parliament. We have 17 members in the European Parliament out of 700, and these 17 could solve a problem for half Europe. The responsibility to be a member of the European Parliament is enormous. Thanks to those in the hall, the rest I shall not comment." said Minister Rossen Jeliazkov.
In the words of Minister Jeliazkov the vote clearly shows the serious division in the European Union. "We want the best option not only for Bulgaria, but also for Europe because we are Europeans," Rossen Jeliazkov said. He stressed that it is unacceptable to tackle competitiveness issues with protectionist legislative solutions that fragment the transport market in the Union.