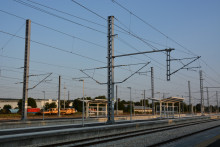 The implemented modern security equipment in the section of Sindel Railway Station guarantees a high level of safety for the run of passenger and freight trains passing. The railway station operates intensively at six directions in the country.
With the complete reconstruction for more convenience and security, new higher platforms with shelters for passengers have been built, 6020 m long railway lines have been renewed, fire protection has been provided, the old switches, poles and the catenary have been renewed.
The reconstruction of the tracks and switches is the basis for the construction of route-computerized centralization of the latest generation. This enables the dispatch control for the run of trains to be carried out by a single center for the section in Sofia.
Within the inspection, the General Director of the National Railway Infrastructure Company Krasimir Papukchiyski found out that the modernization of the security systems significantly improved the technological capabilities for work in the operating point.
This operational point is developed near the village of Sindel, which is located 2 km from the first railway line Ruse-Varna. In 1908 a tender was launched for the construction of a reception building at Sindel Railway Station. The building is two-sided with a one-storey part with an area of 69 sq m and a two-storey wing with an area of 117 sq m with adjoining additional buildings. It was officially opened and declared a station in 1909.