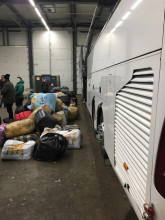 Teams of Economic Police, National Police Directorate General (GDNP), Road Transport Administration Executive Agency (RTA) and Customs Agency carried out joint inspections at Kapitan Andreevo border checkpoint. The operation took place from 10 to 12 December 2021 as part of the interdepartmental specialized police operation and the international operation of Europol OPSON 11.
During the joint actions on the site of the customs checkpoint, inspections were carried out on the route "Entrance" for cars, vans, buses and trucks. Significant quantities of contraband were found - nearly 6,000 textiles and leather goods imitating registered trademarks; 2,300 counterfeit perfumes and 7,500 cigarettes without a Bulgarian excise label. These violations were dealt with by Customs Agency, the goods were confiscated, and protocols and coercive administrative measures were drawn up against the violators.
In the framework of the joint operation, the inspectors of Road Transport Administration Executive Agency checked 21 buses and trucks. 7 acts and 7 coercive administrative measures have been drawn up for established violations related to manipulations of digital tachographs and various technical malfunctions.