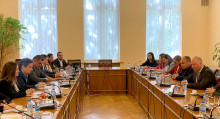 The optimization of radio spectrum charges is an important condition for more investment in the mobile communications sector. This was the opinion of the three big telecom operators - VIVACOM (Bulgarian Telecommunications Company), Telenor and A1 (Mobiltel), expressed at a meeting with the Minister of Transport, Information Technologies and Communications, Mr. Rosen Zhelyazkov, the Chairman of the Communications Regulation Commission Ivan Dimitrov and representatives of Ministry of Regional Development and Public Works.
The discussion was initiated by Minister Rossen Jeliazkov. He stressed the importance of working together between the ministry, the regulator and the business as the basis for the future development of the sector. "The policy of MTITC is to stimulate the industry, respectively the business," said Minister Jeliazkov.
It was generally believed that the active use of technology would increase the competitiveness of the state.
By creating more favorable conditions for the development of mobile communications, Bulgaria could have a leading role in the region and the European Union, operators said. They presented their view of reducing the spectrum charges to the CRC, as there is no investment interest at current prices. The operators welcomed the first proposals of the CRC regarding the price reduction for the 2.6 and 3.6 GHz frequency bands as a step in stimulating the investments.