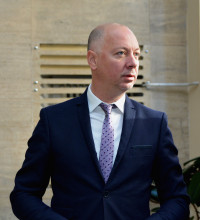 Today, by a majority of approximately 2/3, the European Parliament adopted at first reading proposals on the so-called Mobility Package I.
Despite the alleged procedural violations by the representatives of the group of the same-minded states and the active behavior of the Bulgarian side, the European Parliament voted in full restrictive texts. This again proves that the goal is to redistribute market shares, not to improve the social working conditions.
As we have repeatedly pointed out, along with procedural violations, part of the texts voted are contrary to fundamental principles of the European Union.
The European Parliament, in its current composition, for the first time adopts such contradictory texts, accompanied by substantial procedural violations. In this regard, and in the event that the texts become a fact, we are seriously concerned about the way they are implemented.
The negotiation process is not over. Bulgaria firmly and consistently asserts and will continue to defend its position. We will use all possible legal instruments to protect the interests of the sector. The position at first reading is not the final position of the European Parliament. Decisions are underway to conduct trialogues and negotiations with the Council of the European Union. We are firmly resolved and we will not allow trialogues to take place in this mandate of the European Parliament. That is why I strongly insisted on my meeting with the Romanian transport minister. We also work with the Member States that share our national stance. We will demand and will urge the next European Parliament to assess the impact of rules that are significantly different from the Commission's initiative proposals.
We continue to actively work on the subject of appeals against decisions of the European Parliament if it becomes a reality. We are well prepared to challenge in an appropriate manner any act that threatens or violates the rights of Bulgarian companies in the automotive industry.