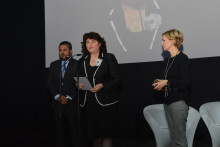 The Ministry of Transport, Information Technology and Communications (MTITC) is a strategic partner in a technology and financial support initiative for startup companies that develop artificial intelligence based applications. This was announced today by Deputy Minister of Transport, Information Technology and Communications Andreana Atanasova at the conference "Artificial Intelligence and I" in Sofia Tech Park. The event was organized by the Digital National Coalition, SAS Institute, Deloitte and Vivacom.
During the competition, the start of the SAS Startup Challenge was announced, which will enable innovative IT companies to be supported technologically by developing artificial intelligence proposals. Businesses can get more information on how to apply at https://www.sas.com/el_gr/events/19/startup-challenge-bg.html.
Within six months, SAS Institute will provide companies with a secure and standardized application development platform. Proposals will be evaluated by a committee, which will include a representative of MTITC. The top three innovative products will be promoted.
"This initiative invites young, innovative companies to participate in a competition to develop machine-learning applications," Deputy Minister Andreana Atanasova said during the conference. She added that public-private partnership was one of the best incentives for the development of a sector and hoped that support for start-up IT companies would become a tradition. "The state can help support such initiatives. We are witnessing the new industrial revolution, its focus is artificial intelligence, but it is determined by humans. Technology is designed to serve us and make our lives easier, not the other way around. It is no accident that it is the person who must remain at the center of the development of artificial intelligence, "the Deputy Minister said.