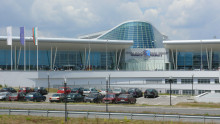 The State will assist Sofia Airport concessionaire in speeding up the throughput mode of Terminals 1 and 2 and avoidance of gathering of many people at one spot. The joint actions were discussed at a meeting at the Ministry of Interior today with the participation of Deputy Prime Minister and Minister of Interior Boyko Rashkov, Minister of Transport, Information Technology and Communications Georgi Todorov, Minister of Finance Asen Vassilev, Director General of Civil Aviation Administration Hristo Shterionov, Chief Commissioner Deyan Mollov, Director of Border Police General Directorate of and the representatives of SOF Connect Jesus Caballero and Philip Gounev.
"The State is fulfilling and confirming its commitment to render assistance to the concessionaire. I explicitly emphasize that I expect the concessionaire to apply the best European and international practices at Sofia Airport, which will contribute to the provision of quality service, including by reduction of times for processing passengers and luggage, without making any compromise with regard to safety and security", Minister Georgi Todorov said. He epressed his strong will to strictly ensure that the concessionaire fulfilled all its obligations.
In the framework of the meeting, various possibilities for speeding up the border checks at Sofia Airport were discussed.