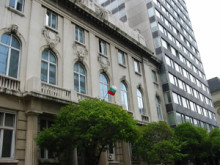 For the first time, the portraits of the 20 Bulgarians awarded the highest title by the State of Israel for saving the Bulgarian Jews will be depicted on a postage stamp. The theme of the edition is "Bulgarian righteous people of the world".
The Deputy Prime Minister for Economic Policies and Minister of Transport and Communications Hristo Aleksiev endorsed the Thematic plan for 2023.
The year will begin with a postage stamp on the 175th anniversary of Hristo Botev's birth. The revolutionary was the first Bulgarian Revival publicist to appear on a postage stamp at the beginning of the 20th century.
The 150th anniversary of the hanging of Vasil Levski will be commemorate with a postage stamp in February by the Ministry of Transport and Communications.
Next year marks the 100th anniversary of the birth of one of the most beloved artists and authors in Bulgaria. On this occasion, for the first time, postal-philatelic editions will be issued in honour of Petar Slabakov, Apostol Karamitev, Lea Ivanova and Radoi Ralin.
Philatelist are expected to be attracted by the theme "100 years Bulgarian Olympic Committee".
The Thematic plan is published on the website of the Ministry of Transport and Communications.