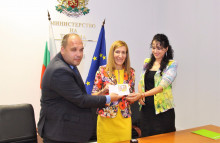 The Thracian Tomb of Kazanlak  and the Rila Monastery decorate the latest postage stamp on "2017 International Year of Sustainable Tourism Development". The validation stamp was affixed by Deputy Minister of Transport, Information Technology and Communications Dimitar Genovski and the Minister of Tourism Nikolina Angelkova.
"One can go around the world by looking at a collection of postage stamps. The wonderful edition before us, however, has another purpose - to show the wealth of Bulgarian history since Antiquity and the Middle Ages and to attract people from all over the world to see the specimens of our culture and architecture", said during the ceremony Deputy Minister Dimitar Genovski. According to him, the artist - Tatyana Uzunova, has depicted on the postage stamp  some of the most recognizable symbols of Bulgarian history.
The Deputy Minister reminded that the theme of tourism joined the Bulgarian postage stamp issuing in the middle of the 20th century. He expressed belief that the newest postage stamp will circulate the collections of philatelists around the world and will embellish the letters we send to our relatives and friends abroad. "This is a great inspiration for many people to include Bulgaria among their travels", said Deputy Minister Dimitar Genovski.