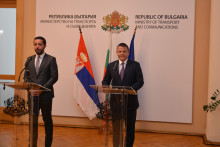 Bulgaria and Serbia will work together to guarantee their energy resources in view of the upcoming cold season. This was stated by the Deputy Prime Minister for Economic Policies and Minister of Transport and Communications, Hristo Alexiev, after speaking with the Minister of Construction, Transport and Infrastructure of Serbia, Tomislav Momirovich.
While for our country the issues are related to natural gas, Serbia needs coal to produce enough electricity. Therefore, one of the main topics was the provision of coal and its transportation by railway transport and along the Danube, Hristo Alexiev added. Coal deliveries started on July 1. So far, 62 trains with over 62,000 tons of coal have passed through the border crossing point.
The Serbian Minister proposed to provide equipment to Bulgaria to help with the deepening of the Danube River. The specialized administrations of the two countries are to specify joint actions to facilitate shipping. Today, there are 14 critical sections in the Bulgarian section. Together with the Romanian side, Bulgaria has started dredging at the most critical of them.
The joint work on the construction of an Intermodal Terminal near Dimitrovgrad, Serbia, will be a very good step towards improving transport connectivity between the two countries, the Deputy Prime Minister said. He informed that in Bulgaria there is an infrastructure for combined transport in Plovdiv. It generates 3.5 times more traffic than the estimated volumes at construction. The two Ministers discussed the possibility of seeking joint financing of the future intermodal terminal.
Hristo Alexiev and Tomislav Momirovich agreed to improve the conditions for passing through border crossing points. The resumption of running of the fast train from Sofia to Belgrade was also listed as a priority.
The meeting began with gratitude from the Serbian Minister for the assistance of the Bulgarian institutions and the citizens of Bulgaria, which was provided to the injured of the accident of a Serbian bus on August 14. "It was a serious accident, but what we did together to help the injured children showed how good the relations between the two countries and between people are", Deputy Prime Minister Hristo Alexiev added.