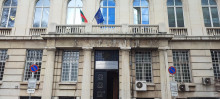 The Minister of Transport and Communications Nikolay Sabev released the executive director of "Transport Construction and Restoration" Bozhidar Dzhelebov, and with this act he is not released from responsibility.
Ivo Yanakiev has been appointed a member of the Board of Directors of the company until a competition procedure is held.
The decision is in connection with the company's activities regarding the contract for the deepening of the Port of Varna, which is subject to checks by the Ministry of Interior and the Prosecutor's Office.