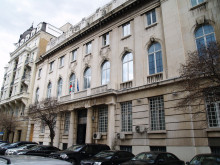 Tomorrow (2 March 2021) the Transport Terriotorial Medical Expert Commission (TTMEC) in Varna will commence work. The branch of the National Multi-profile Transport Hospital - Sofia in the sea capital will open under an ordinance of the Minister of Transport, Information Technology and Communications Rossen Jeliazkov. The TTMEC commission functioned in the city until 2008, when the Multi-profile Transport Hospital was transformed into a company for active treatment.
The Commission for Assessment of the Physical Fitness of Drivers with Diseases examines only persons who are directed for additional expertise by general practitioners.
Appointments for examinations in Varna could be made at the contacts indicated on the hospital's website: https://mbal-varna.com/bg.
The validity of driving licenses expiring before 30 June 2021 shall be extended for a period of 10 months from the date of expiry of the period of validity indicated in each of these licenses pursuant to Regulation (EU) 2021/267 of 16 February 2021.