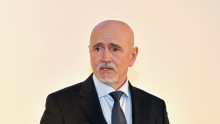 Under the auspices of the Minister of Transport and Communications Nikolay Sabev is the celebration in Ruse of the 15th Anniversary of the accession of Bulgaria and Romania to the European Union. The event will be celebrated on Europe Day, 9 May.
The initiative is a joint one with the Elias Canetti International Society and Ruse Regional Administration.
Minister Sabev will host a panoramic boat trip on the Danube River, which will include representatives of the diplomatic corps in Bulgaria, as well as local authorities from Bulgaria and Romania.
Minister Sabev will also attend a concert of Ruse Philharmonic Orchestra, dedicated to the commemorative day.