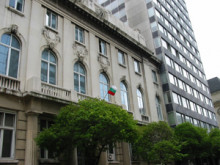 The availability of a valid driver's liability insurance will be checked electronically at the technical inspection points. The measure is in line with the Government's Policy and Minister Nikolay Sabev's request to reduce the administrative burden for the end user and remove paper documents.
The inspection will be done automatically through the established connection for data exchange between the systems of the Road Transport Administration Executive Agency (RTA), the Ministry of Interior and the Guarantee Fund. At the moment, electronic inspections are carried out at the technical points for the presence of taxes and for the registration of the car, and it is no longer necessary for car owners to present on paper the liability insurance before the inspection.
When undergoing a roadworthiness test, drivers will only be required to carry a vehicle registration certificate and an identity document.