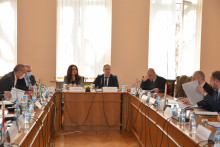 War in Ukraine increases the need to create an International Transport Corridor Persian Gulf - Black Sea. This was stated by the Deputy Minister of Transport and Communications Stoyan Novakov at the opening of the 6th Expert Meeting on the Multilateral Agreement on the Transport Corridor.
As an external border of the European Union, the Bulgarian side is aware that seaports have an extremely important role, the Deputy Minister added. He assured the participants that efforts were being made to develop international connectivity, so that ports provide greater capacity and a higher level of service.
The Deputy Minister pointed out that the development of new efficient and secure Euro-Asian transport links will be an additional opportunity for trade and economic development.
Representatives from Armenia, Bulgaria, Georgia, Greece and Iran took part in the Expert Meeting.