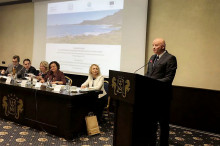 The policies we follow relate not only to the maritime transport development but also to ensuring its safety. This was stated by Deputy Minister of Transport, Information Technology and Communications, Anguel Popov within the conference "Prospects for Strategic Development of the Black Sea Region". The forum is held today in Varna on celebrating the International Black Sea Day.
During the event, Deputy Minister Popov presented the progress in the maritime sector in terms of ensuring unimpeded navigation in the common Bulgarian-Romanian Black Sea region. This is possible after an Agreement with the Romanian Maritime Administration was signed earlier this month. "The document regulates the granting of access for ships in need of assistance to places of refuge. The European requirements for the establishment of Community's system for controlling vessel movement and exchange of information are fulfilled," said deputy minister Popov.
Under the Operational Program "Transport and Transport Infrastructure", in the current programming period, we are planning to upgrade and supplement the functions of the Vessel Traffic Management Information System, added the deputy minister.