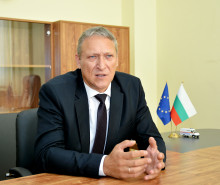 Within 2 months in  "Automobile Administration" (IAAA), structural and organizational changes will be made. This was stated by the Executive Director of IAEA Boyko Ranovski at a briefing today regarding the detainees from the Pernik District Department.
He reported that an analysis of the overall activity of the agency that identified weak and risky places and the measures to be taken to overcome them was made. "After the changes, the IAEA will work in a new way different from the previous one," Ranovski noted.
As the most risky, he pointed to the control of the road, so he is working on a new model to be centralized. This will ensure the agency's work and will not allow undue action by employees.
Regarding the GDOC under the guidance of the Specialized Prosecutor's Office, Boyko Ranovski pointed out that 6 employees of the Pernik District Department were detained. He also stressed that all these actions by the competent authorities are carried out with the full assistance and support of the Ministry of Transport, Information Technology and Communications, as well as by the IAAA leadership.