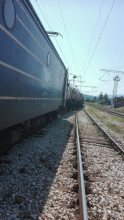 On 15.07.2020 at 05:02 a.m. from Karlovo station departed DFT No 30682 of the railway undertaking "BDZ-Cargo" Ltd. in a composition of 42 wagons empty tanks, 168 axles, 833 tonnage, pulled by electrical locomotive No 46041. The transport of DFT No 30682 is performed along the route Bourgas – Zimnitsa – Karlovo – Plovdiv – Sofia – Iliyantsi – Pirdop.
The train departed from Septemvri station at 09:12 a.m., passed without stopping through Belovo station at 09:24 a.m. The traffic manager on duty at Kostenets station after receiving the train departure prepared the route with for accepting the DFT No 30682 on third siding track.
The DFT No 30682 entered in Kostenets station within regularly opened entrance signal for third siding track. The train passed in deviation through switch No 15 (right) and then in curve (left) towards third track with running speed 25 km/h. The locomotive crew felt strong vibrations and jolts in the locomotive cabin, and undertook train stopping.
As a result of the accident - locomotive № 46041 derailed with the first and second wheel to the right in the direction of train movement.
Injured staff and others - no.
Minimal material damage was inflicted on the locomotive at the beginning of the third track at Kostenets station. The railway on the third track has rails type S 49 and sleepers - wood.
The movement of trains through Kostenets station was not stopped during the accident.