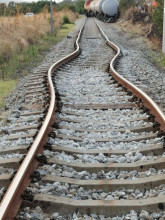 Derailment of IT № 50890 between the stations Kocherinovo - Boboshevo on 31.07.2021
On 31.07.2021 at 15:25 p.m. from Blagoevgrad station departed IT № 50890, consisting of 16 tank wagons empty of light fuels, 64 axles, 329 tons, towed by train diesel locomotive №98520055155-6 and electric locomotive № 97520061003 -1 with locomotive crews of BDZ Cargo Ltd. The route of the train is in the direction Blagoevgrad - Kocherinovo - Boboshevo - Dupnitsa.
At 15:36 p.m. IT № 50890 was accepted at Kocherinovo station on the second main track with a stop. The traffic manager on-duty handed over a traffic order under special conditions "Model II-A" for crossing the Kocherinovo - Boboshevo interstation with limited speed of all trains and vehicles due to the increase in the temperature of the continuously welded rail track from 14:00 p.m. from 80 to 60 km/h.
At 15:37 p.m.  the train left Kocherinovo station with a regular exit signal. During the movement of the train in the interstation Kocherinovo - Boboshevo, about kilometer 107 + 545 the locomotive drivers of the two locomotives felt the locomotives rocking, as the locomotive driver of the leading locomotive № 97520061003-1 stopped the train with the train brake and stopped the train at km 107+500. The locomotive drivers inspected the train and found that the last 5 wagons of the train with №№ 81527852130-8, 337965338-0, 31527852254-7, 31527851994-9, 82527851614-1 derailed to the right in the direction of travel and the rail track was seriously deformed.
There were no injured staff. The five derailed wagons were damaged. The railway infrastructure was also damaged.
The traffic in the interstation Kocherinovo - Boboshevo was interrupted from 15:40 p.m. on 31.07. until 10:50 a.m. on August 1, 2021. The movement of trains in the interstation Boboshevo - Kocherinovo has been restored at a speed of 25 km/h.