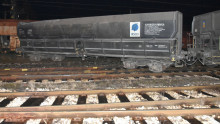 On 14.12.2021 at 14:30 p.m. DFT No 20692 departed from Ruse marshalling yard as per preliminarily prepared plan with a route of traffic Ruse marshalling yard — Gorna Oryahovitsa — Mezdra — Beli Izvor. The train consisted of 24 wagons (empty) series Fals, 96 axles, 585 tonnes towed by locomotive No 91522086004-2. The railway undertaking for freight transport, Bulmarket Rail Cargo EOOD operated the train.
After the departure from Roman station at 21:40 p.m., the traffic manager on duty first person at Mezdra station ordered a route through the RRI for a third free track in deviation. Around 22:00 p.m., DFT No 20692 passed the entrance signal at Mezdra station and the traffic manager on duty, first person opened the exit signal for the passage of the train without stopping on the third track for the Ruska Byala station. The train entered in Mezdra station with a speed of 30 km/h. While accepting the train, the Post switchman on Post 2 noticed that, some of the train's wagons hit the switch apparatuses of switches No 9 and 11, and then stopped quickly at the station at around 22:03 p.m. After an inspection of the location, it was found that the train was split and five wagons of the train composition had derailed.
Because of the derailment, there were no injured staff from the station and the train. Damages were caused to the derailed five wagons, to the railway track and facilities, and signalling equipment in Mezdra Station.
On 15 and 16 December 2021, after repairs have been carried out on the rail track and signalling equipment, the traffic through Mezdra station on track No 1 and track No 2 from and to Roman station was authorised.